We all love our phones, don't we? Do you regularly change your wallpaper? Well, we certainly do! And during the last couple of weeks we have started designing our own Alchemy wallpapers to give away to our freediving & spearfishing fam! So, here's a new set, optimized for iPhone 11, inspired by Emily Dickinson's iconic poem "As If The Sea Should Part", in 3 colours - Black, Gram Orange & Pale Lilac.
Download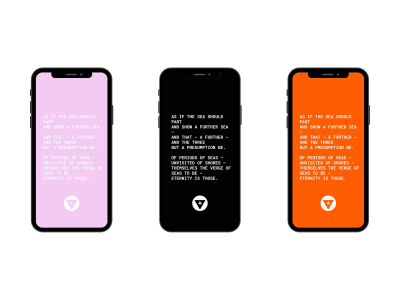 Click Here To See & Download Our Previous Set Of Wallpapers


A few months back, we posted more content inspired by Emily Dickinson's heartfelt poem.
It featured some of the world's deepest freedivers - Sofia Gomez Uribe, Cristian Castano Villa, Helena Bourdillon, Sofia Tapani & Sheena McNally - who had traveled to Roatan, Honduras, in order to compete in Carribean Cup for 2019.
Read Articles About Underwater Content:
Freediving Content Creators Daan And Carlos Share Their Tips
A Piece Of Freediving Heaven
Sayuri Kinoshita And Hanako Hirose Explore The Zenobia Wreck
Enter The Sacred Cenotes
Connect Again With The World Around You
Gozo, Portugal And Malta On One Breath